July 30, 2018: Lincoln, CA
Many thanks to the Heatshield team for my custom sun shades for my 2006 Ford F-350 pickup. My truck works primarily as a tow vehicle so it sits a lot. I purchased a kit that treats all my windows, so fit is an important feature. My brother referred me to Heatshield which he has for his Toyota Tacoma. Great fit, light weight, excellent reflective properties and very fast shipping! Thanks for a great product! -Alex P.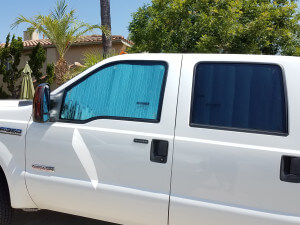 ---
May 31, 2018: Arizona
Hello to all of you folks at Heatshield. I'd like to report that all is great with the two sets (windshield & side windows x2) that I have purchased for my two 1970 Ford F250's. After I made you aware of the lack of a cutout for the rear view mirror, you prompty corrected the issue and sent me a corrected windshield Heatshield. Your customer service rates as a number 10 with me. Both of these trucks are under restoration and the Heatshield will greatly aid in the preservation of the interior components. Thank you for working with me. You have my full endorsement! -Rickman F.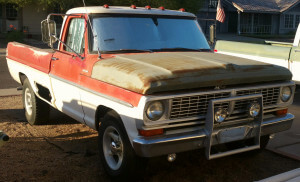 ---
April 13, 2018: USA
Here are some pics of my new Heatshield for my 2012 Chevy Volt. Thanks, and this is the best sun visor I've ever owned. It's a perfect fit! -Bo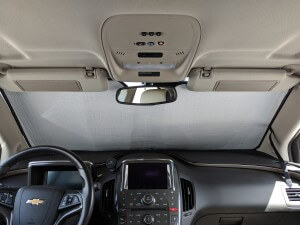 ---
July 2, 2017: Reno, NV
I received a shade for my Scion XD and it fits perfectly. I'm very impressed. I live in Reno, NV, so a good shade is needed. I've just ordered another one for my old 1992 Toyota Corolla. Thanks for the excellent product! -David P.
---
May 14, 2017: Canton, GA
This will be our fourth HeatShield we have ordered from your company and we love how they fit and last in our vehicles. In fact they outlast our leases! -Richard R.
---
May 7, 2017: Dallas, Texas
I received my Heatshields for my Toyota FJ Cruiser's Windshield and Side Windows. I immediately put them up, what a perfect fit! Wow these are great, very little to no light gets through, I could even feel it get cooler in the car right away. We live in Texas and it gets hot here... So these will work great. -Michael S.
---
June 11, 2017: Gilroy, CA
We received the HeatShleld today. Fits like a dream. Thank you for the great customer service! -Beth S.
---
July 8, 2017: Morgan Hill, CA
Received the HeatShield last Thursday and it fit perfectly. Thank you for getting it to me quickly! -Paula B.
---
June 20, 2017: San Jose, CA
Excellent Products and Customer Service. I've had several HeatShields in the past that fit my car's windshield like a glove. The HeatShield I recently purchased from a Ford dealer didn't fit as well as it should and Canvas Works resolved the issue ASAP. I couldn't ask for better service, or a better windshield cover. A++++++. -Randy S.
---
August 17, 2016: Orlando, FL
Nothing fits or functions as well as Heatshield. I loved the one for my windshield so much that I bought the side window set, and now I'm buying one for the very large Moon Roof in my Honda Element. -Jason T.
---